As the US find itself in the grip of heightened racial tensions, former Illinois Republican Congressman Joe Walsh took to Twitter to tell President Obama the chaos unfolding in Dallas is "now a war."
The retired Walsh, who used to represent the 8th District of Illinois, went online to bash both Obama and the #BlackLivesMatter movement in no fewer than a dozen tweets. This one below was later deleted, according to the Washington Examiner.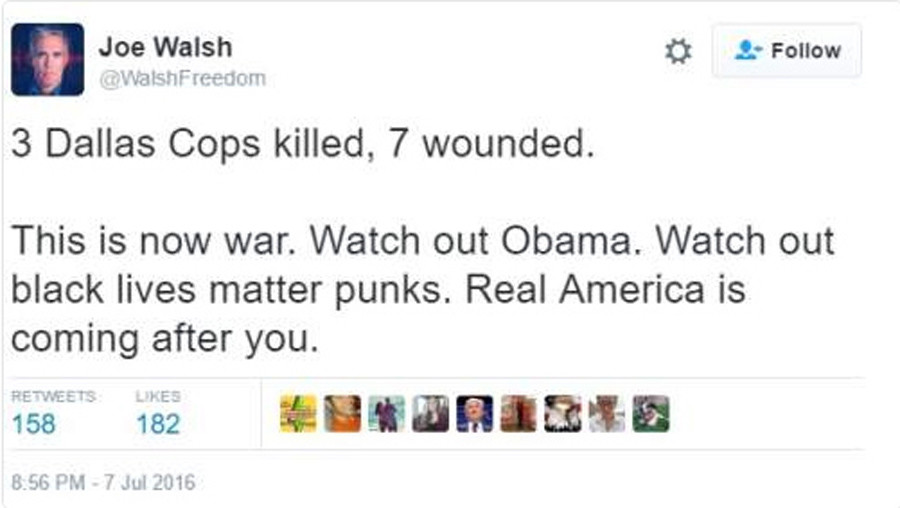 Another tweet sees Walsh strike out at the now widespread accusations of white racism.
Obama says Cops are racist so 2 uneducated black thugs shoot 10 Dallas Cops tonight, killing 4.

Wake up silent majority. Stand w our Cops.

— Joe Walsh (@WalshFreedom) July 8, 2016
Walsh also posted a series of tweets about "standing up" to "cop haters", such as this one.
It's time 4 patriotic Americans to stand up & stand against all the Cop haters – from Obama to the thugs on the street.

It's way past time.

— Joe Walsh (@WalshFreedom) July 8, 2016
His latest Twitter address says the police "work their asses off to protect our inner cities. They deserve respect and help. Not hate and resistance."
The retired congressman is now a conservative radio talk show host. However, Walsh has been dropped from a number of radio shows for various reasons.

Source: RT USA